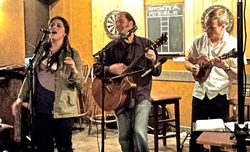 That was fun. A big thanks to AJ for assisting with the load in and sound check, along with Jerry for keeping the craft beer flowing to us and our guests. Nice to see special guests Diane, Sarah, Emily, Karen, Mike, Jennifer, Carol, Andrew, Roger, Susan, Kathy, Jerry, Colette, and Pat, as well as 2/5ths of Absolute Mary (Kalmar and Dara) and the rest of the Dragonmead regulars.

Things got a bit rowdy down front- we saw a prosthetic leg being hoisted and passed around on several occasions. What's up with that? Would it have been insensitive to launch into "Lean on Me" at that juncture? Not sure what was going on there, but they sure sounded like they were having a great time.

Highlight of the evening was when Carol P. came up to sing a few covers including Joni Mitchell's "A Case of You" and Sarah MacLachlan's "Angel." That girl sure can sing!